| | | |
| --- | --- | --- |
| Search: | | |
08/13/09: Ludicra in the news!


Not only has Invisible Oranges blog called them "Metal's Most Underrated Band" (thanks? We thought they were rated "awesome" all along), but San Francisco Bay Guardian "Best of the Bay" Readers' Poll counts them as "Best Metal Act"! Catch the last shows of their East Coast tour with Hammers of Misfortune! It's their first time east of the Mississippi.




08/12/09: Taqwacores Storm CNN!


The kick ass Taqwacores punk subgenre gets more attention from CNN!

Check out the book that helped kick off the Taqwa scene, Taqwacores and the debut from the best of the bands, The Kominas "Wild Nights In Guantanamo"!


08/10/09: Palin says watered down healthcare is EVIL!
From everyone's favorite nutbag right-wing 'news' site Newsmax comes this gem from ex-Governor Sarah Palin:

"The former Republican vice presidential candidate posted her thoughts Friday on Facebook.

Palin says in the America she knows, people won't have to "stand in front of Obama's 'death panel" so his bureaucrats can decide, based on a subjective judgment of their 'level of productivity in society,' whether they are worthy of healthcare."

She says such a system is "downright evil.""


08/06/09: Jesse the Mail Male Best of 2009!
From the local alt-weekly S.F. Bay Guardian Best of the Bay 2009:

BEST PUNK-ROCK COMMISSIONER
Trivia questions pertaining to local government and ballot propositions may not be the most typical way to win concert tickets from your local college radio station — but longtime KALX DJ Jesse "Luscious" Townley is not your typical college radio personality. The ever-active activist punk-turned-politician headed west from Philly in 1989 to attend the San Francisco Anarchist Gathering and stayed on, becoming a positive fixture on the East Bay punk and political scene. Townley may have just been elected a commissioner on Berkeley's rent board last November, but he has no plans of giving up his weekly show, which offers a fun mix of punk, funk, rap, comedy, jazz, and blues, sprinkled with sharp social commentary. Same goes for his weekly half-hour talk show "Soap Box Derby." Townley may have once published the fanzine "Berkeley Sucks" and performed "Berkeley Is My Baby (And I Want to Kill It)" with his former band Blatz, but he sincerely cares about his adopted East Bay city, and his KALX listeners.
KALX 90.7 FM Tuesdays 6 a.m.-9 a.m., Thursdays 9-9:30 p.m.


07/31/09: New Star Fucking Hipsters tune & U.K. TOUR!
Star Fucking Hipsters- led by STZA from Leftover Crack- has uploaded up a brand new song from their upcoming Alternative Tentacles debut "Never Rest In Peace"!

All of you U.K. kids should get out & see SFH starting tonight in Kingston, West Sussex!
Jul 31 2009 8:00P the Fighting Cock Kingston
Aug 1 2009 8:00P barfly (cheap show) Cardiff
Aug 2 2009 7:00P Star & Garter Manchester
Aug 3 2009 7:00P End Bar Newcastle
Aug 4 2009 7:00P Sumo Leicester
Aug 5 2009 7:00P Asylum Birmingham
Aug 6 2009 7:00P Underworld London
Aug 7 2009 6:00P Rebellion Fest! Blackpoole


07/10/09: Michael Parenti on Honduran coup & Obama
From our friend & spoken word artist Michael Parenti comes this short piece from this week:

The Honduras Coup: Is Obama Innocent?
by Michael Parenti

Is President Obama innocent of the events occurring in Honduras, specifically the coup launched by the Honduran military resulting in the abduction and forced deportation of democratically elected President Manuel Zelaya? Obama has denounced the coup and demanded that the rules of democracy be honored. Still, several troubling questions remain.
First, almost all the senior Honduran military officers active in the coup are graduates of the Pentagon's School of the Americas (known to many of us as "School of the Assassins"). The Honduran military is trained, advised, equipped, indoctrinated, and financed by the United States national security state. The generals would never have dared to move without tacit consent from the White House or the Pentagon and CIA.
Second, if Obama was not directly involved, then he should be faulted for having no firm command over those US operatives who were. The US military must have known about the plot and US military intelligence must have known and must have reported it back to Washington. Why did Obama's people who had communicated with the coup leaders fail to blow the whistle on them? Why did they not expose and denounce the plot, thereby possibly foiling the entire venture? Instead the US kept quiet about it, a silence that in effect, even if not in intent, served as an act of complicity.
Third, immediately after the coup, Obama stated that he was against using violence to effect change and that it was up to the various parties in Honduras to resolve their differences. His remarks were a rather tepid and muted response to a gangster putsch.
Fourth, Obama never expected there would be an enormous uproar over the Honduras coup. He hastily joined the outcry against the perpetrators only when it became evident that opposition to the putschists was nearly universal throughout Latin America and elsewhere in the world.
Fifth, Obama still has had nothing to say about the many other acts of repression attendant with the coup perpetrated by Honduran military and police: kidnappings, beatings, disappearances, attacks on demonstrators, shutting down the internet and suppressing the few small critical media outlets that exist in Honduras.
Sixth, as James Petras reminded me, Obama has refused to meet with President Zelaya. He dislikes Zelaya mostly for his close and unexpected affiliation with Venezuela's Hugo Chavez. And because of his egalitarian reformist efforts Zelaya is hated by the Honduran oligarchs, the same oligarchs who for many years have been close to and splendidly served by the US empire builders.
Seventh, under a law passed by the US Congress, any democratic government that is the victim of a military takeover is to be denied US military and economic aid. Obama still has not cut off the economic and military aid to Honduras as he is required to do under this law. This is perhaps the most telling datum regarding whose side he is on. (His Secretary of State, Hillary Clinton, is even worse. She refuses to call it a coup and states that there are two sides to this story.)
As president, Obama has considerable influence and immense resources that might well have thwarted the perpetrators and perhaps could still be applied against them with real effect. As of now he seems more inclined to take the insider track rather than an actively democratic stance. On Honduras he is doing too little too late--as is the case with many other things he does.


06/29/09: A Green Club Grows In Brooklyn
From today's New York Times:

"But the thing that sets it apart from most every club in the country is not as readily apparent. As part of its mission to operate in an environmentally responsible way, Brooklyn Bowl was built according to the strict standards of the United States Green Building Council's Leadership in Energy and Environmental Design program, which call for, among other things, efficient use of energy and water. Scrupulous attention was paid to construction materials: the stage was made from recycled tires, for example, and the wood was certified to have come from well-managed forests."


06/25/09: EXCLUSIVE! Michael Jackson Not Dead
In his most thrilling media stunt yet the King of Pop basket cases burst through the doors to the ER, dancing, prancing, moonwalking and tossing false noses to adoring fans like Elvis with the scarves in Las Vegas. Sources tell us he will soon resume his sideline activity from the "Thriller" days - going door to door disguised as an old lady soliciting money for his fellow Jehovah's Witnesses. Yet another earth-shattering scoop that Wolf Blitzer missed, but Jello Biafra didn't. And TMZ?


06/24/09: The Bat in Baltimore this weekend!
Alternative Tentacles is a proud sponsor of this year's epic Insubordination Fest in Baltimore, MD! It's this weekend and features Pansy Division and Reverend Norb's Boris The Sprinkler. You may remember Norb's contribution to the Alternative Tentacles catalog: his twisted take on Bob Dylan as Nob Dylan and His Nobsoletes!

Both Pansy Division & Boris The Sprinkler play on Friday June 26th, along with the Dead Milkmen, The Steinways, Toys That Kill, Underground Railroad to Candyland, and more!

NOB DYLAN AND HIS NOBSOLETES - Postively 12 Stiff Dylans!
PANSY DIVISION - That's So Gay CD
PANSY DIVISION - Life In A Gay Rock Band Double DVD

Insubordination Fest Myspace
Insub Fest tickets


06/22/09: Witch Hunt contest!
To celebrate the new Witch Hunt LP/CD "Burning Bridges to Nowhere," we're giving away signed tour posters to 3 lucky customers!

Jared the Mail Order Prince will choose 3 people who've ordered the new release on CD or LP. The lucky 3 will receive the 2009 US Summer tour poster signed by all 4 band members, in addition to the new Witch Hunt release.

Do you want in? Just place your order for "Burning Bridges to Nowhere" on our website by Midnight Pacific time Tuesday, June 23, 2009, and you're in the running for this ace prize!

To get you in the mood, here's the podcast interview Jared & Jesse Luscious did with the band when they were in the Bay Area last week on tour. Check out either the direct link to the Witch Hunt Batcast, the Batcast page, or subscribe via iTunes to the Batcast & never miss a show!


06/08/09: Ebay makes way for The Bat!
Yep, Alternative Tentacles has returned to eBay after many years away. We'll be offering a series of rarities & neat things that generally are out of print or otherwise unavailable through our regular website.

Check out our brand new auction site!
Make us a "Favorite Seller"- you won't want to miss out!


05/29/09: Logical Nonsense REUNION tomorrow!
New Mexico's legendary Logical Nonsense are doing one show this Saturday May 30th at the Launchpad in Albuquerque!


05/24/09: AT closed Memorial Day (Monday!)
We're closed tomorrow (Monday May 25th) for Memorial Day, a national holiday.

Here's a new initiative based on Memorial Day from actress Kim Cattrell.


05/20/09: SK8 or DIE Skateboard cross-country!
From John The Baker, Jared, & Alex comes this news of their exciting 60 mile skateboarding trip down the length of the East Bay. Check out this East Bay Express article for more!

"SKATE TIL YOU DIE ! Welcomes - The 3 Alternative Tentacles interns who are doing the full 60 mile skate from Richmond to San Jose Ca. may 21 22 and 23. To benefit Bay Area Kids WHo Rock and Adaptive Action Sports. Please Sponsor them for Skate til you Die !
MAKE DONATIONS VIA PAYPAL
to leasa: lcatera@sbcglobal.net

Or Buy a shirt from Alternative Tentacles! AT has donated 50 shirts to the SKATE TIL YOU DIE! benefit and the organizers are screen printing the Skate Til You Die! Logo on the front with the ATR BAT SYMBOL on the back of the shirts. These limited edition shirts will be up & available here on the AT site next week!

john the bakers skate benefit. may 21-23 from richmond to san jose. 3 days, 3 shows, 60 miles of skating.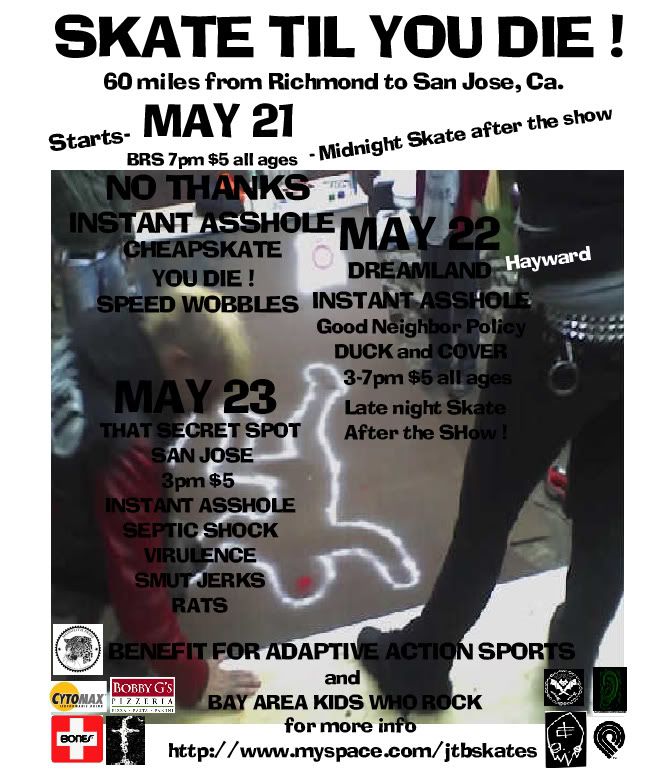 WHAT'S IT FOR ?

My band, Instant Asshole wanted to buy a van for upcoming tours and so I thought it would be cool if we got a big vehicle that 2 bands could tour in at once and also something we could lend/rent to other bands to use when we weren't on tour.

So I decided to do this benefit to raise money for the van. Instant Asshole is also planning a split 7" release with The Prosthetics from Phoenix and one of the new songs IA recorded for the split is called, "Skate til you Die!". So I thought rather than have the benefit raise money just for the van we would also donate some money raised to alter-abled skaters and so we will be skating to benefit:

Adaptive Action Sports, a group dedicated to skaters and boarders with prosthetic limbs. I learned about this group while doing another skateboarding benefit called SKATE THE LAKE, an annual benefit skate around Lake Tahoe.

http://www.adaptiveactionsports.com

Why Adaptive Action?? well I almost lost a leg skating at Underwood skatepark in Taylor Pa last year while on tour.
thank You !
John the Baker"


05/18/09: Long-lost AT vinyl found!
Our long-time pressing plant just found a few hundred orphaned AT records that were covered in dust on some out-of-the-way shelf- we are excited that among the records are a couple of out-of-print AT classics that we've thrown back up on our site for you to snap up! These are extremely limited in number, so don't sleep on these!

D.O.A. War On 45 12"- The Canadian legends produce one of the greatest punk EPs ever! Classic D.O.A. the likes of Hardcore '81 and Something Better Change! Hardly anything can touch these 8 tunes for speed and elegantly egalitarian anger. Includes their epic cover of J. Edwin Starr's "War" and The Dils "Class War". Also here is their classic political blast "America The Beautiful" and their classic yet not-so-political "Let's Fuck!"

Brujeria Machetazos 7-inch- South of the border grindcore heroes. Wanted by U.S. authorities for suspected drug-trafficking, as well as murder. They don't need no stinkin' badges! They don't need nothin'!

In other news of AT classics, we just got the latest shipment of the classic Black BAT shirt back in stock in almost all sizes!