| | | |
| --- | --- | --- |
| Search: | | |
11/07/11: Holiday deadlines already? YEP!


2011 Winter Holiday deadlines:
For Christmas/Hannukah season we have the following deadlines. Find your method of shipping/ordering and get your order in by the date below. This should ensure delivery by Friday December 23, 2011.

All orders sent through the mail should arrive at our PO Box by Monday November 28
International web orders Wednesday November 30
Media Mail web orders Wednesday December 7th
Priority Mail orders Wednesday December 14th

More info on our FAQ Page


11/01/11: AT closed for GENERAL STRIKE WEDNESDAY!
Alternative Tentacles will be closed on Wednesday, November 2nd to show solidarity with the General Strike recently proposed by the Occupy Oakland movement! The occupiers' proposal follows:

"We as fellow occupiers of Oscar Grant Plaza propose that on Wednesday November 2, 2011, we liberate Oakland and shut down the 1%.

"We propose a city wide general strike and we propose we invite all students to walk out of school. Instead of workers going to work and students going to school, the people will converge on downtown Oakland to shut down the city.

"All banks and corporations should close down for the day or we will march on them.

"While we are calling for a general strike, we are also calling for much more. People who organize out of their neighborhoods, schools, community organizations, affinity groups, workplaces and families are encouraged to self organize in a way that allows them to participate in shutting down the city in whatever manner they are comfortable with and capable of.

"The whole world is watching Oakland. Let's show them what is possible."

-----

One of the most well known U.$. general strikes occurred over a five day period in Seattle, 1919, with 60,000 union members and 40,000 non-union sympathizers walking out and taking to the streets. The city all but stopped functioning, with exceptions made for essential services (firefighters, hospital staff, and the like). Crime plummeted, neighborhood kitchens were set up to feed the populace, and a staunch anti-authoritarian spirit permeated the city.

That peaceful strike ended with National Guard interference and the subsequent anarchist / socialist / IWW witch hunt that followed. Let's hope this one ends on a better note!

(info taken from chapter 15 of Howard Zinn's classic "A People's History Of The U.S.", available in its entirety online):
http://www.historyisaweapon.com/zinnapeopleshistory.html

For up-to-date Oakland Occupation information: http://www.occupyoakland.org

We Are The 99%!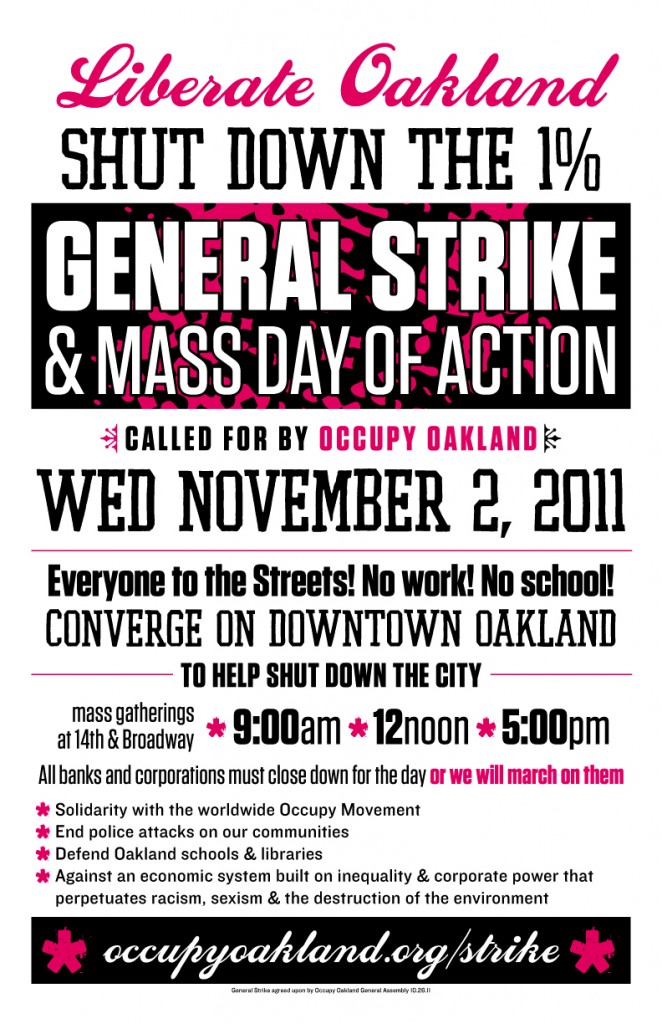 08/11/11: Ludicra is no more!
Sad news from our friends in beloved "Grey Metal" band LUDICRA:

"The door is officially closed on Ludicra. It was a great trip, but all things have their end. Alternative Tentacles was an early supporter of Ludicra, and we appreciate their faith and their help to achieve what we could with out little rock band. Thanks."

Doktor Ross Sewage
Minister of Filth


We'll be sure to keep you up to date on what's next for the Ludicra crew!


07/04/11: AT e-mail fixed!
An intrepid techie fixed our insanely broken e-mail system on Sunday, so e-mail away, true believers!

Meanwhile, orders are being packed and shipped as usual. If you have questions, please leave a message for Jared at 510-596-8984 or fax us at 510-596-8982.

Note: the office will be CLOSED on Monday for the July 4th holiday, in honor of BBQs & hand-held explosives.


06/17/11: 32nd Birthday 32% 3-for-2 sale!
To help celebrate our 32nd birthday, we're offering 3-for-2 32% off CD deals on some of our punk, spoken word, and twang gems! Only through the weekend!

The Punk 3-for-2 CD pack
The Spoken Word 3-for-2 CD pack
The Twang 3-for-2 CD pack


This sale ENDS on Sunday, June 19th!


04/21/11: Chomsky on everything!


Noam Chomsky in Amsterdam (13-03-2011) from Chomsky in Nederland on Vimeo.






04/18/11: A.T. bands on tour... the season begins


As the weather warms up, bands are hitting the road, nationally and internationally. Europa is hot right now! LUDICRA and THE BELLRAYS are currently crisscrossing Europe. SLIM CESSNA'S AUTO CLUB begin their European tour April 28. RATOS DE PORAO do some European shows April 21-30. Back in the states, CITIZEN FISH will get the West & Southwestern U.S. dancing starting May 12. And DASH RIP ROCK continue their never ending tour of Southern bars & casinos that no other A.T. band would be welcome in, playing somewhere way below the Mason-Dixon practically very weekend. GIT SOME haven't announced dates yet, but are currently organizing an East Coast tour. If you're a booker reading this, book them! Last, but certainly not least, JELLO BIAFRA & THE GUANTANAMO SCHOOL OF MEDICINE play Northern California shows April 20-23, play in Las Vegas April 29-30, and have a record release party coming up soon to be announced. Come June, they head to Europe themselves for a month of touring. Click on our TOUR page for details about dates. We post new dates when we get word of them.




04/01/11: Jello Biafra endorsed for mayor by San Francisco Bay Guardian!


The SF Bay Guardian endorses Jello Biafra for Mayor of SF!




03/01/11: Application period for job is closed!


Good luck to everyone who applied. Carry on, nothing more to see here!




02/20/11: We are hiring!


Alternative Tentacles is hiring for a Promotions Coordinator. All of the details are here.

Inquiries about the position will only be accepted at the 2011job at alternativetentacles.com e-mail. All other inquiries will be ignored.

Good luck!


02/02/11: Pasazer CD Compilation
Our friends at the Polish punk magazine Pasazer not only put Jello Biafra and the Guantanamo School of Medicine on the cover of Issue 27, they also included a CD sampler of Alternative Tentacles songs from recent releases! The artists included are Subhumans Canada, Amebix, Ratos De Porao, Alice Donut, Triclops!, Articles Of Faith, Pansy Division, Cross Stitched Eyes, and many more jammed onto one piece of plastic. Pick up a copy if you can!


01/20/11: AMEBIX Announce New Album Title & Release Date
The darkest hour is upon us. The legends have returned.
AMEBIX, one of the best-loved and most influential bands in heavy music, have spent the last two years working towards this, a defining moment in heir storied career - the release of their first collection of all-new material since 1987.
On September 20, 2011, upon the cusp of the autumnal Equinox, the new AMEBIX album will be released. Entitled Sonic Mass, these nine songs represent the past, present, and future of the band, and will enthrall and inspire longtime fans and new converts alike. As dark, crushing, and honest as anything on their classics Arise! and Monolith, but imbued with a lifetime of hardship, raw emotion, and eternal hope, Sonic Mass is the album AMEBIX have always wanted to create.
The album was recorded at Rock Cottage in Derbyshire and The Lodge Studios in Northampton, England, and engineered, mixed and produced by AMEBIX drummer Roy Mayorga. Sonic Mass will be released digitally and on CD by Alternative Tentacles, with a deluxe 12" vinyl edition from Profane Existence.
Formed in the late seventies and hailed as the godfathers of crust punk and extreme metal, AMEBIX had long lain dormant until the addition of drummer Roy Mayorga (Nausea, Crisis, Soulfly, Stone Sour), a DVD release, and a string of 2009 reunion shows reignited the flame. The band's resurrection first resulted in the release of 2010's Redux EP, which features live and rerecorded versions of several of the band's best-loved classics, including "Winter," "Chain Reaction," and the immortal battle cry, "Arise." The songs were remixed by Mayorga and Redux is available from Profane Existence on CD, 12" LP and digitally. Now, the time has come to finish what they started. A whole new chapter in the AMEBIX saga has begun.

AMEBIX IS
Rob Miller: Vocals/Bass
Stig C Miller: Guitars
Roy Mayorga: Drums/Keyboards/Mandolin


12/29/10: Black Bat is BACK! (just in time for 2011!)
All of your favorite sizes, from Girlie Large to 5XL, are back in stock of the classic Black Bat Shirt!


12/18/10: Slim Cessna's Auto Club & Munly on NYE!



12/09/10: The BAT takes on ROCK BAND!
Slim Cessna's Auto Club "Americadio" is now available to play on Rock Band!

Here's the preview video.

Want to buy the track now? Click here

Also out now, Dash Rip Rock "Johnny Ace 2010"- you can buy it here to practice, just in for their January-March 2011 tour with Cowboy Mouth!

Check out this awesome preview video!

After this dose of Alternative Tentacles twang comes some classic AT riffage from Ludicra "Veils" and... wait for it... AMEBIX!

To sate your curiosity, here is the preview video for Ludicra.