| | | |
| --- | --- | --- |
| Search: | | |
03/27/14: Alternative Tentacles Pop-Up Record Store: 1-2-3-4 GO! RECORDS in OAKLAND,CA!


This Friday, April 4th, Alternative Tentacles is hosting it's first ever Pop-Up Record Store at 1-2-3-4 Go! Records in Oakland, CA! The AT staff will be on hand with a ton of cd's and vinyl to add to 1-2-3-4 Go! Records already amazing collection! AT will also be showcasing the "Jello Biafra Record Store"! Rare and hard to find records from Jello Biafra's own personal collection on sale! GARY FLOYD (The Dicks/Sister Double Happiness) will be hosting a fantastic showcase of his original artwork as well as playing a short acoustic set! DO NOT MISS THIS!

All Ages and FREE! 7pm-10pm, Friday April 4th @ 1-2-3-4 Go! Records. 420 40th St. #5, Oakland, CA. 94609. 510-985-0325


03/26/14: AT STAFF PICK OF THE WEEK: STAR FUCKING HIPSTERS "NEVER REST IN PEACE"



AT STAFF PICK OF THE WEEK: Alternative Tentacles Intern Rafer Rawb picks the STAR FUCKING HIPSTERS album "Never Rest In Peace", and here is what he has to say about it:

"Never Rest in Peace" contains perhaps the most stellar lineup of band members in the Star Fucking Hipsters discography, being the last album with Nico De Gaillo as the sole female vocalist. It includes what is likely their most well known track, "3,000 Miles Away", crusty ska-hybrids like "The Civilization Show" and is an absolute must-have for the cross-country train rider's collection. BUY IT THE FUCK NOW!"

Available on CD & Digital Download. For more info on the band including streams and videos check out the STAR FUCKING HIPSTERS ALBUM PAGE


03/19/14: Alternative Tentacles signs ArnoCorps!

Alternative Tentacles is pleased to announce the signing of the world's premier Action Adventure Hardcore Rock n' Roll band, ArnoCorps! Rumored to be currently based somewhere in the San Francisco Bay Area, ArnoCorps has been bringing audiences original musical interpretations of ancient Austrian lore and mythology since 2001. The band insist that these ancient sagas, such as Terminator, Commando, Predator, Total Recall, and True Lies, have been bastardized via big budget Hollywood Austro-ploitation films. Determined to restore integrity and unleash the motivational power within these tales, the music of ArnoCorps defines and enables their ballsy action-adventure lifestyle.
To help them on their mighty quest, Alternative Tentacles will release both "THE GREATEST BAND OF ALL TIME" full length and the "TWO MORE!" single on glorious vinyl for the first time ever on July 8th 2014, just in time for ArnoCorps' triumphant return to the United Kingdom. Many listeners of this mighty tome claim to have experienced an increase in muscle mass, a better understanding of life's mysteries, and feeling like "goddamn heroes and sheroes". Now, let ArnoCorps tell you of the days of high adventure. Come on! Do it now!! What are you waiting for?!? Check TOUR DATES for the upcoming UK tour dates!


03/18/14: bATcast #109 - INTERVIEW WITH ULTRA BIDÉ



New host Dominic sits down with lead bassist and vocalist Hide while they were coming through San Francisco on their recent American tour! They talk about the difficulty of international touring, recording, and being in a band for long enough where multiple generations come to see you play!

Check out the latest bATcast along with all the others on our bATcast page: ALTERNATIVE TENTACLES BATCASTS


03/17/14: ULTRA BIDÉ - EUROPEAN TOUR WITH SNFU!
Ultra Bide have announced a full tour with SNFU through Europe! Check out our TOURS PAGE for more details!


02/10/14: VICTIMS FAMILY - NEW MUSIC VIDEO FOR "HAVE A NICE DAY"
VICTIMS FAMILY have just released a brand new music video for their song "Have A Nice Day". Directed by Jerrold Ridenour with creative direction by cover artist Zoltron (who also did the artwork for the 7" single), it features Puppets & pyrotechnics! Hand made puppets and sets are brought to life using marionette and rod puppet techniques.
Have a Nice Day - Victims Family from Jerrold Ridenour on Vimeo.
You can pick up the song off of their 7" for sale here: VICTIMS FAMILY "HAVE A NICE DAY" 7"
For more on VICTIMS FAMILY check them out in our ARTISTS section!


02/10/14: PEACE CREEP SELF TITLED EP OUT NOW!
Experience the musical blitzkrieg that is San Francisco's PEACE CREEP! This brilliant debut release from former members of PINS OF LIGHT & TRICLOPS! is available as a 12" EP and DIGITAL DOWNLOAD for only $8!
OUT NOW!
Click to buy!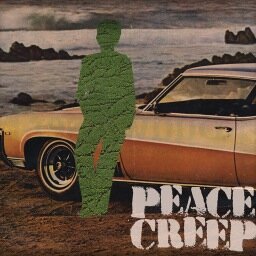 12/31/13: AT Top 10s of 2013


Alternative Tentacles family and friends provide us with their year-end wrap up lists:

Vic Bondi (Articles Of Faith)
1. Motorhead -- Aftershock
2. Jason Isbell -- Southeastern
3. Red Hare -- Nites of Midnight
4. JB/GSM -- White People and the Damage Done
5. Daria -- Daria/Office of Future Plans EP


Christian Beaulieu (Peace Creep, Anywhere, Triclops!)
1) Moving back to SF from LA. after this order is irrelevant.

2) Lee Ranaldo introducing me to Bob Mould in SF
3) Iggy and The Stooges/Thee Oh Sees live in San Jose
4) Anywhere Olompali EP
5) Bad Antics Where did I go wrong? cassette
5) Comets On Fire live in Oakland
6) Signing to both Merge and Alternative Tentacles
7) Buying a Cat Harness/Hockey Skates
8) Jello Biafra live in Long Beach
9) Generation Loss self titled
10) Feral Ohms live in Pacifica

Jesse Krakow (Dot Wiggin Band)
10) Jeremiah Cymerman's 5049 Records Podcast
9) The Red Sox winning their 3rd World Series in less than a decade
8) Kayo Dot/Psalm Zero/Ahleuchatistas @ Bowery Electric
7) Vomit Fist live on WFMU's "Minor Music"
6) The braised chicken thigh tacos I made for my wife
5) John Cale's "Paris 1919" at BAM
4) Da Groove Commanders live on WFMU's "Miniature Minotaurs" w/ Kurt Gottshalk
3) Artie Lange "Crash & Burn"
2) Dot Wiggin Band "Ready! Get! Go!
1) The birth of my son Jacob Francis Krakow (aka JFK Jr, Jr.) on 6/29/13

Bill Davis (Dash Rip Rock)
Live shows I liked this year:
White Light Cemetery
Delta Doom
Hymn for Her
The Mastersons
Missing Monuments
Hillbilly Casino
Trash Mavericks
Allen Toussaint
The Vibrators
Lost Bayou Ramblers

John The Baker
10. Neurosis on NYE to Kicker start this year off right. 
9. Fucktard tour to Texas with Black Market Prophets. 
8. Skate Til U Die 2013 
7. #moccupy Ghoulman Sachs 
6. Tankcrimes records turns 10 yrs old
5. Marge and I write new songs and perform them at the State Capitol on the indigenous day of resistance
4. Everlasting Love a new shop in SF run by Ami Lawless of Voetsek. 
3. Brainoil East Coast Tour.
2. Alternative Tentacles and Powell Peralta collaborate to produce skate boards.
1. Marge and I get married and my nephew Joey Eppard sings Purple Rain and we dance.   



10/02/13: Dot Wiggin Band Preview track on Pitchfork


Download "Speed Limit" from the new Dot Wiggin Band record entitled Ready! Get! Go! from Pitchfork now: pitchfork.com/reviews/tracks/16115-dot-wiggin-band-speed-limit

Dot was the singer of the Shaggs and we are extremely happy that she has joined the Alternative Tentacles family.


10/01/13: ULTRA BIDÉ - NEW RECORD AND TOUR


Alternative Tentacles is excited to announce the tour dates for Ultra Bidé's 2013 Fall/Winter tour in support of their brand new CD and LP DNA vs DNA-c on Alternative Tentacles (virus 458).

Straight up skull-shattering is what comes to mind when hearing Japanese noisesters Ultra Bidé. On their first US record in over 10 years, they're hyper-energetic, relentless and fun! DNA vs DNA-c documents the trio's duel bass and drum attack, like a monster that pounds ever so thick and creamy, as if it were a custard donut cooked by Satan. Led by original Japanese punk, singer, & bassist Hide, Ultra Bidé will guide you across a complicated galaxy of sound and you're not always sure you will survive the voyage. Equally psychedelic as it is primal and fuzzy punk rock, Ultra Bidé is menacing and confident.

Ultra Bidé will be touring the USA and Canada upon the release of DNA vs DNA-c during October and November. Their legendary live sets head directly toward the stratosphere with unmatchable energy. They have got the musicianship and vigor that is clearly the work of heavy music experts. Hide's vocals drive the insane dragster that is Ultra Bidé far past the supersonic barrier, and the vivacity of the band's massive bass and drum sound will pulverize you into a pulp. These guys have been doing it since 1978 and show no signs of slowing down. Fans of the Unsane and the Amphetemine Reptile sound won't want to miss this.




08/28/13: Turn Me On Dead Man Record Release Show & Tour


TURN ME ON DEAD MAN's record release party is THIS FRIDAY at Bender's in San Francisco! On Saturday they embark on a tour of the Pacific Northwest. The dates are here: http://www.alternativetentacles.com/tours

Check out this amazing preview for Friday's show: http://www.sfweekly.com/2013-08-28/music/turn-me-on-dead-man-show-preview

If you haven't picked up WE ARE THE STAR PEOPLE, Get it here: www.alternativetentacles.com/product.php?product=2116


Here's a video for "Hot Tub Mermaids," an outtake from the new LP:




08/20/13: TURN ME ON DEAD MAN!


Check out the video for Uhura from TURN ME ON DEAD MAN's latest LP - WE ARE THE STAR PEOPLE! Get it here: www.alternativetentacles.com/product.php?product=2116

catch them on tour too:http://www.alternativetentacles.com/tours





08/20/13: Winston Smith Art Show
Grant's Tomb Gallery presents: A Midsummer Night's SCREAM!!!
click here to see the flyer
Winston Smith's 15th Annual Art Bash
Friday, 23 August 7 p.m. to 11 p.m.
GROUP SHOW Featuring the Work of 8 Artists: *Rebecca Peters *Ronald F. Sauer *Karmene H-P Hassell * Jason Chandler *Meg Bay *Caoimhe Carty *Tiffany Pollard *Winston Smith
This is a One-Night-Only Event! Artwork will be available for direct purchase from the artists present. Cash & Carry! (Plastic accepted too!) Admission is Free. Light Refreshments Provided (But BYOB, if Possible.)
GRANT'S TOMB
50-A Bannam Place ---San Francisco, Californy
(Near the Corner of Union Street and Grant Avenue in North Beach).
www.WinstonSmith.com
http://winstonsmith.com/2013/08/mid-summers-night-scream-2013/


08/12/13: Child In The Sunburst Pyramid


Even MORE tour dates added to the long awaited Turn Me On Dead Man tour! Get them here: http://www.alternativetentacles.com/tours


And have fun trippin' out to this psychedelic video from their album Technicolor Mother:




08/06/13: Turn Me On Dead Man TOUR DATES!

Turn Me On Dead Man is hitting the road with their galactic rock sound. Be sure to check them out!!!
08/25/2013 The Night Light Oakland, CA
08/30/2013 Carbone's Monterey, CA
08/31/2013 Bender's Bar & Grill San Francisco, CA
09/01/2013 Club 66 Ashland, OR
09/02/2013 Slabtown Portland, OR
09/05/2013 Johnny B's Medford, OR
09/06/2013 Brotherhood of Eagles Hall Seattle, WA
09/07/2013 TBA Portland, OR


And here's a video for an older track, Fantasia