PANSY DIVISION - Life In A Gay Rock Band Double DVD

Insubordination Fest Myspace
Insub Fest tickets


06/22/09: Witch Hunt contest!
To celebrate the new Witch Hunt LP/CD "Burning Bridges to Nowhere," we're giving away signed tour posters to 3 lucky customers!

Jared the Mail Order Prince will choose 3 people who've ordered the new release on CD or LP. The lucky 3 will receive the 2009 US Summer tour poster signed by all 4 band members, in addition to the new Witch Hunt release.

Do you want in? Just place your order for "Burning Bridges to Nowhere" on our website by Midnight Pacific time Tuesday, June 23, 2009, and you're in the running for this ace prize!

To get you in the mood, here's the podcast interview Jared & Jesse Luscious did with the band when they were in the Bay Area last week on tour. Check out either the direct link to the Witch Hunt Batcast, the Batcast page, or subscribe via iTunes to the Batcast & never miss a show!


06/08/09: Ebay makes way for The Bat!
Yep, Alternative Tentacles has returned to eBay after many years away. We'll be offering a series of rarities & neat things that generally are out of print or otherwise unavailable through our regular website.

Check out our brand new auction site!
Make us a "Favorite Seller"- you won't want to miss out!


05/29/09: Logical Nonsense REUNION tomorrow!
New Mexico's legendary Logical Nonsense are doing one show this Saturday May 30th at the Launchpad in Albuquerque!


05/24/09: AT closed Memorial Day (Monday!)
We're closed tomorrow (Monday May 25th) for Memorial Day, a national holiday.

Here's a new initiative based on Memorial Day from actress Kim Cattrell.


05/20/09: SK8 or DIE Skateboard cross-country!
From John The Baker, Jared, & Alex comes this news of their exciting 60 mile skateboarding trip down the length of the East Bay. Check out this East Bay Express article for more!

"SKATE TIL YOU DIE ! Welcomes - The 3 Alternative Tentacles interns who are doing the full 60 mile skate from Richmond to San Jose Ca. may 21 22 and 23. To benefit Bay Area Kids WHo Rock and Adaptive Action Sports. Please Sponsor them for Skate til you Die !
MAKE DONATIONS VIA PAYPAL
to leasa: lcatera@sbcglobal.net

Or Buy a shirt from Alternative Tentacles! AT has donated 50 shirts to the SKATE TIL YOU DIE! benefit and the organizers are screen printing the Skate Til You Die! Logo on the front with the ATR BAT SYMBOL on the back of the shirts. These limited edition shirts will be up & available here on the AT site next week!

john the bakers skate benefit. may 21-23 from richmond to san jose. 3 days, 3 shows, 60 miles of skating.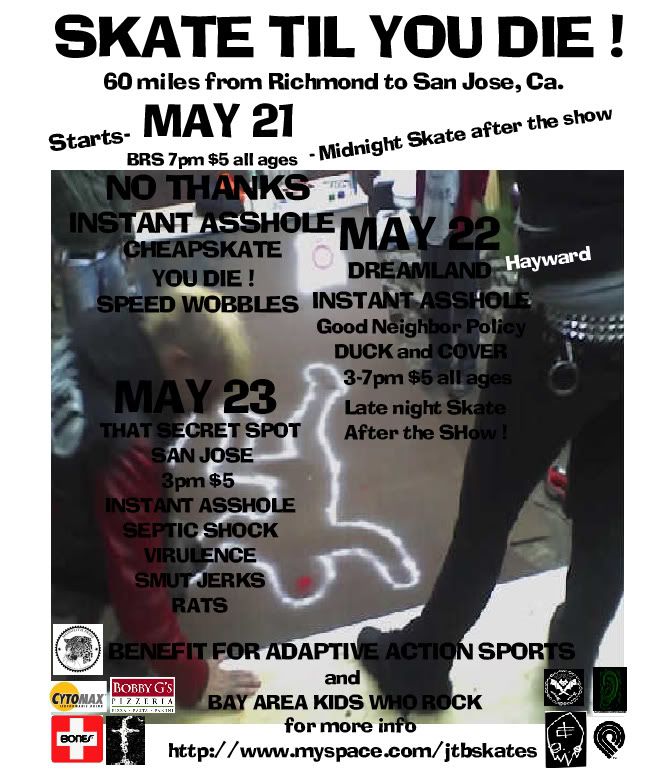 WHAT'S IT FOR ?

My band, Instant Asshole wanted to buy a van for upcoming tours and so I thought it would be cool if we got a big vehicle that 2 bands could tour in at once and also something we could lend/rent to other bands to use when we weren't on tour.

So I decided to do this benefit to raise money for the van. Instant Asshole is also planning a split 7" release with The Prosthetics from Phoenix and one of the new songs IA recorded for the split is called, "Skate til you Die!". So I thought rather than have the benefit raise money just for the van we would also donate some money raised to alter-abled skaters and so we will be skating to benefit:

Adaptive Action Sports, a group dedicated to skaters and boarders with prosthetic limbs. I learned about this group while doing another skateboarding benefit called SKATE THE LAKE, an annual benefit skate around Lake Tahoe.

http://www.adaptiveactionsports.com
Why Adaptive Action?? well I almost lost a leg skating at Underwood skatepark in Taylor Pa last year while on tour.
thank You !
John the Baker"


05/18/09: Long-lost AT vinyl found!
Our long-time pressing plant just found a few hundred orphaned AT records that were covered in dust on some out-of-the-way shelf- we are excited that among the records are a couple of out-of-print AT classics that we've thrown back up on our site for you to snap up! These are extremely limited in number, so don't sleep on these!
D.O.A. War On 45 12"- The Canadian legends produce one of the greatest punk EPs ever! Classic D.O.A. the likes of Hardcore '81 and Something Better Change! Hardly anything can touch these 8 tunes for speed and elegantly egalitarian anger. Includes their epic cover of J. Edwin Starr's "War" and The Dils "Class War". Also here is their classic political blast "America The Beautiful" and their classic yet not-so-political "Let's Fuck!"
Brujeria Machetazos 7-inch- South of the border grindcore heroes. Wanted by U.S. authorities for suspected drug-trafficking, as well as murder. They don't need no stinkin' badges! They don't need nothin'!
In other news of AT classics, we just got the latest shipment of the classic Black BAT shirt back in stock in almost all sizes!


05/14/09: Michael Parenti & Jesse The Mail Male
Michael Parenti will be discussing capitalism & Obama's stimulus package this evening from 9-9:30pm (Pacific) with Jesse the Mail Male in his alter ego as radio host!
Listen live at 90.7FM in the San Francisco Bay Area or on-line! You can get his Rulers of the Planet on itunes!


05/13/09: 24th Anniversary of MOVE bombing
Jesse the Mail Male is a Philly native, so today he recognizes the 24th anniversary of the MOVE bombing- May 13, 1985.
Here's an "All Things Considered" radio rememberance" from 2005.
Here's a more radical view from Philly IMC, and the Free the Move 9 blog.


05/12/09: Grady & Ani Kyd have rare shows this week!
That's right, AT faves Grady & Ani Kyd both have shows this week!
While Grady has been preparing for a continental tour later this year, they've been laying low. That makes these 3 shows in Dallas (Friday) & Austin (Saturday & Thursday 5/21) a special treat for all you Texans!
Ani Kyd has also been keeping a low profile, although she's started a jump blues band that's playing Thursday @ Vancouver's Railway Club.
Check out all of the tour dates for AT bands on our Tour Page!