| | | |
| --- | --- | --- |
| Search: | | |
05/20/09: SK8 or DIE Skateboard cross-country!


From John The Baker, Jared, & Alex comes this news of their exciting 60 mile skateboarding trip down the length of the East Bay. Check out this East Bay Express article for more!

"SKATE TIL YOU DIE ! Welcomes - The 3 Alternative Tentacles interns who are doing the full 60 mile skate from Richmond to San Jose Ca. may 21 22 and 23. To benefit Bay Area Kids WHo Rock and Adaptive Action Sports. Please Sponsor them for Skate til you Die !
MAKE DONATIONS VIA PAYPAL
to leasa: lcatera@sbcglobal.net

Or Buy a shirt from Alternative Tentacles! AT has donated 50 shirts to the SKATE TIL YOU DIE! benefit and the organizers are screen printing the Skate Til You Die! Logo on the front with the ATR BAT SYMBOL on the back of the shirts. These limited edition shirts will be up & available here on the AT site next week!

john the bakers skate benefit. may 21-23 from richmond to san jose. 3 days, 3 shows, 60 miles of skating.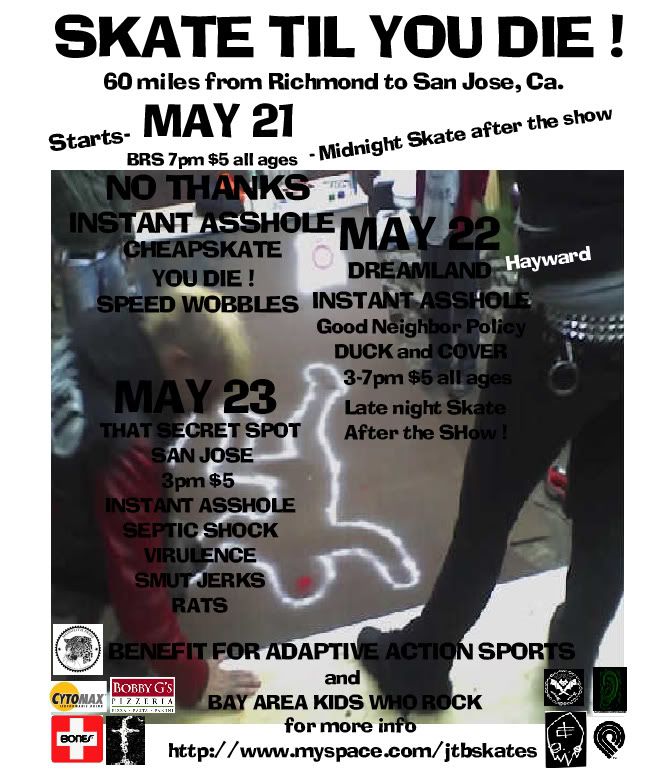 WHAT'S IT FOR ?

My band, Instant Asshole wanted to buy a van for upcoming tours and so I thought it would be cool if we got a big vehicle that 2 bands could tour in at once and also something we could lend/rent to other bands to use when we weren't on tour.

So I decided to do this benefit to raise money for the van. Instant Asshole is also planning a split 7" release with The Prosthetics from Phoenix and one of the new songs IA recorded for the split is called, "Skate til you Die!". So I thought rather than have the benefit raise money just for the van we would also donate some money raised to alter-abled skaters and so we will be skating to benefit:

Adaptive Action Sports, a group dedicated to skaters and boarders with prosthetic limbs. I learned about this group while doing another skateboarding benefit called SKATE THE LAKE, an annual benefit skate around Lake Tahoe.

http://www.adaptiveactionsports.com
Why Adaptive Action?? well I almost lost a leg skating at Underwood skatepark in Taylor Pa last year while on tour.
thank You !
John the Baker"


05/18/09: Long-lost AT vinyl found!
Our long-time pressing plant just found a few hundred orphaned AT records that were covered in dust on some out-of-the-way shelf- we are excited that among the records are a couple of out-of-print AT classics that we've thrown back up on our site for you to snap up! These are extremely limited in number, so don't sleep on these!
D.O.A. War On 45 12"- The Canadian legends produce one of the greatest punk EPs ever! Classic D.O.A. the likes of Hardcore '81 and Something Better Change! Hardly anything can touch these 8 tunes for speed and elegantly egalitarian anger. Includes their epic cover of J. Edwin Starr's "War" and The Dils "Class War". Also here is their classic political blast "America The Beautiful" and their classic yet not-so-political "Let's Fuck!"
Brujeria Machetazos 7-inch- South of the border grindcore heroes. Wanted by U.S. authorities for suspected drug-trafficking, as well as murder. They don't need no stinkin' badges! They don't need nothin'!
In other news of AT classics, we just got the latest shipment of the classic Black BAT shirt back in stock in almost all sizes!


05/14/09: Michael Parenti & Jesse The Mail Male
Michael Parenti will be discussing capitalism & Obama's stimulus package this evening from 9-9:30pm (Pacific) with Jesse the Mail Male in his alter ego as radio host!
Listen live at 90.7FM in the San Francisco Bay Area or on-line! You can get his Rulers of the Planet on itunes!


05/13/09: 24th Anniversary of MOVE bombing
Jesse the Mail Male is a Philly native, so today he recognizes the 24th anniversary of the MOVE bombing- May 13, 1985.
Here's an "All Things Considered" radio rememberance" from 2005.
Here's a more radical view from Philly IMC, and the Free the Move 9 blog.


05/12/09: Grady & Ani Kyd have rare shows this week!
That's right, AT faves Grady & Ani Kyd both have shows this week!
While Grady has been preparing for a continental tour later this year, they've been laying low. That makes these 3 shows in Dallas (Friday) & Austin (Saturday & Thursday 5/21) a special treat for all you Texans!
Ani Kyd has also been keeping a low profile, although she's started a jump blues band that's playing Thursday @ Vancouver's Railway Club.
Check out all of the tour dates for AT bands on our Tour Page!


04/23/09: Burning Image emerges from the Bat Cave!
Burning Image- the mysterious Bakersfield 80's goth-punk band legends- are emerging from the Great Beyond tonight in Oakland, CA!
After AT reissued their incredibly rare KBD recordings on 1983-1987, the band has now assembled a new look at the underbelly of existence as only Burning Image can! The new record "Fantasma" will debut at this show. It won't be in stores until mid-May!
Burning Image plays live @ the Uptown in downtown Oakland tonight! It's a Shadow Society event!



04/14/09: Pansy Division in Newsweek
Joshua Alston interviewed Jon Ginoli for this feature about Gay Rights getting its own righteous soundtrack. Awesome!


03/30/09: Triclops! live review
SF Weekly review of Triclops! playing with Monotonix from Saturday night. Europe has NO idea what is headed their way! "Triclops! just may be the best group in the Bay Area...It's a captivating amalgamation of '90s Touch and Go-style antagonistic post-whatever and innovative punk psychedelia. While the band is excellent on record, the real mind fuck comes from witnessing them live" -Brian Moss


03/26/09: Pansy Division media onslaught!
Pansy Division is everywhere! Jon Ginoli is on tour with his book "Deflowered", the DVD documentary "Pansy Division: Life In A Gay Rock Band" and the album "That's So Gay" are both out on March 31st! There's a DVD review by Catherine Plato in the East Bay Express, an mp3 of "Twinkie, Twinkie Little Star" on Plug In Music and Ventvox, and an interview with Ginoli on AfterElton.com


03/25/09: Phantom Limbs haunt Chicago TONIGHT!
Tonight it's the Chicago CD/DVD RELEASE party for the Phantom Limbs at the Beat Kitchen! Featuring Phantom Limbs frontman's new band Loto Ball Show, plus Young Widows, Millions, & My Disco!


03/19/09: Dicks inducted into Texas Music Hall of Fame
The Dicks played with Jesus Lizard's David Yow at the Austin Music Awards 2009 show on Wednesday March 18th. They were inducted into the AMA's Hall of Fame by Exene Cervenka. Houston Press' Chris Gray wrote about it here.


03/17/09: We Stimulate You!
AURAL STIMULUS DEAL!
We're doing our part to stimulate the economy amidst the country's ongoing wars, imminent recession woes, and faltering banking system by giving back to you! From now until the end of April, we're throwing in an extra CD from our mailorder distro for all orders totalling $30.00 or more. The range of music is as wide as our selection (i.e. all over the map), and we'll do our best to handpick something you'll enjoy based off your order. Any order from anywhere in the world is eligible!
Get stimulated!


03/13/09: Pansy Half Off Pants Off!
We all know that our favorite founders of Homocore, PANSY DIVISION, are back with the new 7-inch, the new studio CD, the hott documentary/live 2xDVD, and co-founder Jon Ginoli's brand new book! To help get the party started, we've put all of the band's classic Lookout catalog on 1/2 price sale thru the end of the month!
Limited numbers mean you best buy now & regret nothing later!
Undressed CD - $6.00 ($12.00 list)
Deflowered CD - $6.00 ($12.00 list)
Wish I'd Taken Pictures CD - $6.00 ($12.00 list)
More Lovin' From Our Oven CD - $6.00 ($12.00 list)
Absurd Pop Song Romance CD - $6.00 ($12.00 list)


03/04/09: DOA rocks China!
Hardcore pioneers DOA have cracked the Red Curtain, playing a bunch of shows in China!
You can see the Asian Adventures of Joey Shithead and the gang on their Flicker page!
The band's about to head to Europe for the first time in 7 years, so get ready, European punx, for the return of the original hardcore punx!


02/23/09: Awesome AMEBIX program on KALX!
KALX DJ Carnacki interviewed Amebix last month before their jaw-dropping San Francisco show. You can listen to the full 19 minute interview here!